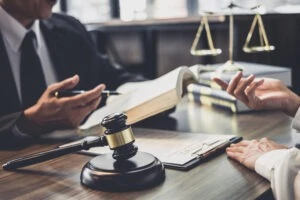 Has a corporation wronged you with negligence? Don't let them get away with it. You deserve justice for the harm you suffered.
A Culver City personal injury lawyer can help you get started. We have over 40 years of experience with mass tort litigation and class action cases. Our team will help you hold the liable party responsible for their misconduct.
Common Types of Mass Tort and Class Action Cases
Mass tort cases encompass a wide range of issues and can arise from various circumstances. Understanding the common types of mass tort cases can help you determine if you have a viable claim and if hiring a consumer class action lawyer is right for you.
Product Liability
One common type of mass tort case is product liability. This occurs when a defective product causes harm or injury to multiple individuals. Examples include faulty medical devices, dangerous pharmaceutical drugs, or contaminated food products. Product liability cases can involve numerous victims seeking compensation for their injuries.
Environmental Damages
Another prevalent mass tort case involves environmental contamination. These cases arise when individuals suffer harm due to exposure to toxic substances, such as chemical spills or pollution. Multiple people in a specific area may be affected, so they can join together to file a mass tort lawsuit against the responsible parties.
Consumer Fraud and Other Types
Mass tort cases can also involve consumer fraud. This occurs when companies engage in deceptive practices or false advertising, resulting in financial harm to consumers. Examples include misleading marketing claims or undisclosed fees. Individuals affected by consumer fraud can band together to seek compensation for their losses.
Other common types of mass tort cases include medical malpractice, defective vehicles, and workplace accidents resulting in injuries.
California's Statute of Limitations
In any legal matter, time is of the essence. This is especially true when it comes to mass tort cases in California. The statute of limitations determines the amount of time you have to file a lawsuit after suffering harm from a company's actions or products.
In California, the statute of limitations for personal injury claims is generally two years from the date of the injury or discovery of the injury. However, mass tort cases may have different deadlines and requirements. It's crucial to consult with a qualified law team to understand the specific statute of limitations that applies to your situation.
Failing to file a lawsuit within the designated time frame can result in your case being dismissed, leaving you without the opportunity to seek compensation for your injuries. It's important to act promptly and not delay in contacting a Culver City mass tort and consumer class action lawyer if you believe you have a valid case.
Culver City Mass Tort and Class Action Lawyer Near Me 310-844-9696
Benefits of Hiring a Culver City Attorney
Consumer class action lawsuits can be complex and challenging to navigate on your own. Hiring a qualified class action lawyer is crucial to ensure that your rights are protected and that you have the best chance at obtaining the compensation you deserve.
Knowledge and experience:

Attorneys have a deep understanding of the laws and regulations surrounding mass tort cases and the tactics used by large corporations to defend themselves. This knowledge is invaluable when it comes to building a strong case and maximizing your chances of success.

Handling legal complexities:

A class action lawyer will handle all aspects of your case, from the initial investigation to filing the lawsuit to settlement negotiations or trial. This allows you to focus on healing and moving forward with your life while we take care of the legal complexities.

Access to resources:

A class action lawyer will have access to resources and a network of experts who can provide valuable support to your case. They can collaborate with medical professionals, engineers, and other specialists to strengthen your claims and bolster your evidence.

Leveling the playing ground:

These companies have teams of highly skilled defense lawyers who will do everything in their power to minimize their liability and discredit your claims. By having a dedicated law firm by your side, you have someone who will advocate for your rights and ensure that you are not taken advantage of.
Click to contact our Culver City Personal Injury Lawyers today
What Damages Can You Recover in These Types of Lawsuits?
Mass tort lawsuits can result in significant damages for those whom a company has wronged. In these types of cases, numerous individuals come together to seek compensation for similar injuries or harm caused by a product or service.
The damages awarded in a mass tort lawsuit can vary depending on the specific circumstances of each case, but they can include both economic and non-economic losses.
Economic Damages
Economic damages may cover tangible losses such as medical expenses, lost wages, and property damage. For example, if you have suffered injuries from a defective product, you may be entitled to compensation for medical bills and any income you lost due to your injuries.
Non-Economic Damages
Non-economic damages, on the other hand, can encompass intangible losses such as pain and suffering, emotional distress, and loss of enjoyment of life. These damages aim to provide compensation for the physical and emotional toll the incident has had on your life.
Punitive Damages
Punitive damages are designed to punish the defendant for their misconduct and deter others from engaging in similar behavior. These damages are typically awarded when the defendant's actions were particularly egregious or reckless.
Complete a Free Case Evaluation form now
Contact a Mass Tort and Consumer Class Action Lawyer in Culver City, California
Hiring a consumer class action attorney can significantly impact your pursuit of justice and compensation. At Arias Sanguinetti, we understand the complexities of mass tort cases and can guide you through the entire legal process.
With our experience and knowledge, you can increase your chances of obtaining maximum damages. Don't delay in contacting us now; we're here to help you recover the financial compensation and justice you deserve.
Call or text 310-844-9696 or complete a Free Case Evaluation form