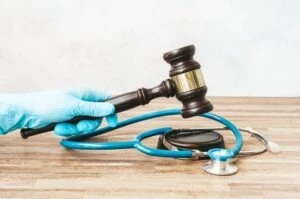 Finding the right lawyer for your medical malpractice case can be a challenge. It's important to find a Culver City medical malpractice lawyer who is committed to defending your legal rights and getting you the compensation you deserve. If you're in the Culver City area, you're in luck—the experienced team at Arias Sanguinetti can provide you with legal representation now.
With the right legal support on your side, you can rest assured that your case will be handled properly and that you'll have access to the resources you need to win. Read on to learn more about hiring a Culver City personal injury lawyer.
Understanding Medical Malpractice in California
Medical malpractice refers to the negligence of healthcare professionals that results in harm or injury to a patient. When we seek medical care, we put our trust and lives in the hands of doctors, nurses, and other healthcare providers. We expect them to provide a certain standard of care and to act in our best interests, but mistakes can happen.
Medical malpractice can occur in various forms:
Misdiagnosis

Medication errors

Delayed diagnosis

Surgical errors

Anesthesia errors

Failure to obtain

informed consent
Proving medical malpractice can be complex, as it requires gathering and presenting evidence to demonstrate that the healthcare provider's negligence directly caused the patient's injuries. This is where the expertise of a Culver City medical malpractice lawyer becomes crucial.
Potential Damages in a Medical Malpractice Case
If you have been a victim of medical malpractice, you may be entitled to recover damages for the harm and losses you have suffered. The specific damages you can recover will depend on the circumstances of your case and the laws of the jurisdiction in which you are filing your claim.
Economic Damages
One type of damage you may be able to recover is economic damages. These are the quantifiable financial losses you have incurred as a result of the medical malpractice, such as medical expenses, lost wages, and future medical costs. For example, if you require additional surgeries or ongoing medical treatment due to the malpractice, you can pursue compensation for those expenses.
Non-Economic Damages
You may also be able to recover non-economic damages, which are intended to compensate you for the non-financial losses you have experienced. This can include physical pain and suffering, emotional distress, loss of enjoyment of life, and loss of consortium or companionship.
Punitive Damages
In some cases, you may be able to seek punitive damages. These damages are intended to punish the responsible party for their particularly egregious conduct and deter others from engaging in similar behavior in the future. However, punitive damages are not available in all jurisdictions and are typically awarded in cases where the defendant's actions were intentional or grossly negligent.
Culver City Medical Malpractice Lawyer Near Me 310-844-9696
The Importance of Hiring a Medical Malpractice Lawyer in Culver City
When it comes to your medical malpractice case, hiring a Culver City medical malpractice attorney is vital. These cases are complex and require a deep understanding of medical malpractice law and the intricacies involved.
By working with an experienced attorney, you can ensure that your case is handled properly and that you have the best chance of receiving the compensation you deserve.
Experience and Knowledge
Our attorneys specialize in medical malpractice cases and have extensive experience navigating the complex legal system. They understand the specific laws and regulations that apply to these cases and can use their knowledge to build a strong argument on your behalf.
Track Record of Success
Our team is proud to have achieved favorable outcomes for our clients. Our reputation for excellence can be a significant advantage when negotiating with insurance companies or presenting your case in court.
Access to Resources
We have connections with medical experts who can review your case and provide their professional opinion. These experts can strengthen your argument and provide invaluable insight into the standard of care that should have been followed.
Clear Communication
Furthermore, a reputable attorney will prioritize communication and keep you informed throughout the legal process. They will answer your questions, address your concerns, and provide regular updates on the progress of your case. This open line of communication ensures that you are involved in your case and have a clear understanding of what to expect.
Click to contact our Culver City Personal Injury Lawyers today
Contact a Medical Malpractice Lawyer in Culver City Now
Hiring a reputable Culver City medical malpractice attorney is essential for your case. At Arias Sanguinetti, we have the experience, track record of success, and access to resources necessary to navigate the complexities of these cases. With our help, you can ensure that your rights are protected and that you have the best chance of receiving the compensation you deserve.
Don't hesitate to reach out to our Culver City medical malpractice lawyers to discuss your case and take the first step toward obtaining the justice you seek. Get your free consultation now by contacting us.
Call or text 310-844-9696 or complete a Free Case Evaluation form