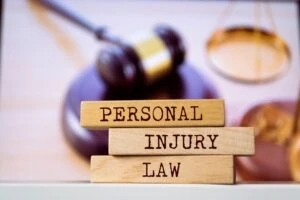 If you were injured in an accident in Las Vegas, you need a personal injury lawyer who understands local laws and is willing to fight for your rights. Hiring a Las Vegas-based Arias Sanguinetti attorney is the best way to ensure you get the compensation you deserve for your losses.
From medical care bills to lost wages, there are factors a lawyer must take into consideration when filing a personal injury claim. An experienced lawyer can help you navigate the complex legal system and get the best outcome for your case.
What Is Nevada's Personal Injury Law, and How Long do You Have to File?
If you were injured due to another person's negligence, you have the legal right to file a personal injury claim. Filing a valid claim allows you to pursue financial compensation for losses you suffered because of the accident.
It is important to note that the Nevada statute of limitations, in most cases, limits this right to two years after the accident date. If you do not file your negligence claim against the liable party within the statute of limitations, you risk forfeiting your right to file a claim.
For medical malpractice cases, a claim must be filed at most three years from the date of the negligent party's act or one year from the date the injury was discovered.
What Are Common Personal Injury Accidents Cases?
The following are some of the practice areas our personal injury lawyers see the most:
Car, truck, or pedestrian accident lawyers:

One of the most common types of personal injury accidents are

car accidents

, truck accidents, or pedestrian accidents.

Slip and fall accident lawyers:

A slip and fall may not seem serious, but this type of injury accident may leave accident victims with severe injuries such as spine problems or

traumatic brain injuries (TBIs)

.

Workplace accident lawyers:

This type of personal injury accident may occur at any workplace, from an office building to a construction site.

Sexual abuse lawyers:

When someone intentionally causes another person harm, they may be left with life-altering damage.
If you have been injured in any type of injury accident, partner with our skilled legal team to get professional and trusted legal advice as you build your claim for compensation.
Las Vegas Personal Injury Lawyer Near Me 310-844-9696
Injuries that Commonly Occur in Las Vegas
An accident may leave victims with a wide range of injuries, from minor to severe. Some common injuries suffered by victims in Vegas include:
Head injuries or traumatic brain injuries

Neck, back, or

spinal cord injuries

Paralysis

Cuts or lacerations

Burns

Sprains

Broken or fractured bones

Deafness or blindness

Loss of limbs

Internal bleeding

Post-traumatic stress disorder

Other catastrophic injuries

Death (wrongful death)
Negligence in Personal Injury Cases
When someone injures you by failing to take the proper care, that person is considered negligent. To properly establish a negligence claim, you need to show the following:
The responsible party had a duty to use reasonable care.

They somehow breached that duty.

That breach caused damages.
By demonstrating these elements of negligence, the injured party may be entitled to compensation for their losses, including medical expenses, lost wages, pain and suffering, motor vehicle or truck collisions, elevator malfunctions, and medical malpractice.
It often requires legal expertise to navigate the complex process of proving negligence, so consulting with a qualified attorney may be beneficial. At Arias Sanguinetti, our personal injury attorneys have successfully resolved many negligence cases on behalf of our clients.
If you suffered from any injury due to someone's negligence, you deserve to receive fair compensation for your losses.
Click to contact our Personal Injury Lawyers today
Damages Our Clients May Be Eligible for After an Accident
When an accident leaves you with injuries that alter your quality of life, you may be eligible to receive financial compensation in the form of damages. The damages you may be eligible for include:
Medical expenses:

Injured clients may incur high medical bills for treatments, doctor visits, or physical therapy as they recover.

Lost earning potential:

If an injury leaves a victim with a disability, they may lose their ability to earn a certain amount of pay at their job due to their limited abilities.

Lost wages:

When victims cannot work due to their injuries, they may experience a long period where they do not receive a paycheck.

Property damage:

If the property is damaged during the accident, it may be expensive to replace or have fixed.

Pain and suffering:

Victims have the right to pursue maximum compensation for all physical and emotional pain they endured due to the accident.
Our knowledgeable personal injury lawyers have the experience to help you understand what damages you may be eligible for based on the details of your claim.
Complete a Free Case Evaluation form now
Benefits of Working With an Injury Attorney in Las Vegas
If you've suffered an injury due to someone else's negligence or intentional actions, hiring a lawyer from our firm to help you get compensation is essential. Here are the benefits of hiring a personal injury lawyer from Arias Sanguinetti |Trial Lawyers:
Knowledge and Experience
Our personal injury lawyers deeply understand personal injury law, court procedures, and insurance companies' tactics. They know how to navigate the complex legal system to ensure your case is presented in the best light possible.
Legal Representation
If your case goes to trial, you'll want an experienced Las Vegas personal injury attorney. Our lawyers will present your case persuasively, representing your best interests and helping you achieve the maximum possible compensation.
Maximizing Your Compensation
Our attorneys know how to build a strong case and negotiate with insurance companies to maximize your compensation. They can help you obtain compensation for medical bills, lost wages, and other expenses related to your injury.
Peace of Mind
By hiring a personal injury trial lawyer from Arias Sanguinetti, you can focus on your recovery and leave the legal work to the professionals. You'll have peace of mind knowing that your case is being handled by an experienced legal team who has your best interests at heart.
Connect With Our Team of Las Vegas Personal Injury Attorneys
Being injured in an accident may have life-altering effects on a victim. As you recover from your injuries, a skilled personal injury lawyer can help you with the personal injury claim process.
Arias Sanguinetti |Trial Lawyers is an award-winning Las Vegas personal injury attorney team helping victims regain their lives. We are proud to offer our clients more than 35 years of experience and dedicated representation as we help them build strong personal injury claims. Contact us to schedule a free initial consultation with our personal injury law firm today.
Call or text 310-844-9696 or complete a Free Case Evaluation form