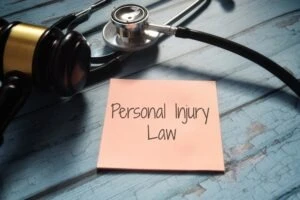 Arias Sanguinetti | Trial Lawyers can help if you sustained injuries in an accident caused by someone else's negligence. We have decades of experience handling personal injury cases and are ready to use our legal knowledge to build your claim.
Work with our Culver City personal injury lawyers to secure compensation for all your financial losses, including medical expenses and lost wages.
Our experienced attorneys will handle all aspects of your legal claim, letting you focus on your recovery. Find out more by calling or completing our online contact form.
When Should You Call a Personal Injury Lawyer?
Many Southern California residents are unsure when to contact an attorney after an accident. If you or a loved one is in any of the following situations, it's time to call us for legal counsel:
If you were injured in a motor vehicle accident, including car, truck, motorcycle, etc.

If you suffered from a slip and fall.

If you were involved in a workplace incident.

If a dog or other animal bit you.

If defective products injured you.

If you or a loved one was abused in a nursing home.

If you were injured in a boating accident.

Harmed due to another party's careless or reckless actions.
Other Reasons to Seek Legal Counsel for Your Claim for Damages
You may also want to contact a lawyer if you find yourself in any of the following situations:
You require medical treatment and have doctor, hospital, or therapy bills related to the accident.

An insurance company has denied or delayed paying out your claim.

You feel unsure if you received a fair compensation offer.

Another party or entity is legally liable for the accident.

A loved one has died as the result of another party's provable negligence.
These scenarios often involve complex legal issues that require professional insight and experience. By contacting a Culver City personal injury lawyer, you can ensure that your rights are adequately represented and that you are taking the necessary steps to pursue the compensation you may be entitled to.
Don't risk missing out on the fair compensation you may deserve by allowing insurance companies to deceive you.
How Can Our Culver City Personal Injury Lawyers Help?
Our team can assist with every facet of your injury or property damage claim. We focus on evaluating your case and the viability of your claim. This process may involve gathering evidence like the following:
Police reports

Video footage

Photographs

Witness statements
This multifaceted approach ensures all relevant information is meticulously gathered to build a compelling case, aligning with your situation's specific circumstances and requirements.
Ways Our Team Works to Maximize Your Compensation and Support Your Recovery
A lawyer from our personal injury law firm may hire expert witnesses like accident reconstructionists and doctors to scientifically validate your case. We determine the full scope of damages you incurred, including medical costs and lost income.
Furthermore, our team will:
Handle the insurance claims process and negotiations to maximize the compensation.

Communicate with insurance companies and push for fair settlement offers.

File a lawsuit and lay out your case in court.

Legally defend you against allegations of partial fault or negligence.

Deal with complex legal paperwork.
We allow you to focus on healing and recovering while handling your legal case. We work with the ultimate goal of getting you the maximum damages legally possible for your injuries and losses. Find out more by contacting us today.
Culver City Personal Injury Lawyer Near Me 310-844-9696
What Financial Compensation Could You Get for an Accident?
You may be entitled to compensation if you sustain injuries in an accident caused by another party's negligence. This compensation can cover various losses related to the incident.
Depending on the severity of your injuries and the circumstances surrounding the accident, you might be eligible to recover damages for:
Current and Future Medical Expenses
Medical expenses often form a significant part of a personal injury claim. Injuries resulting from an accident may require various types of medical treatment immediately after the incident and potentially for years to come. We can assist you in recovering the costs for these essential medical services, including:
Hospitalization:

The medical bills associated with a hospital stay, such as room charges, medical tests, surgical procedures, and other in-patient services.

Surgery:

If your injuries require surgical intervention, we can help you seek compensation for the costs of the operation, anesthesia, and related medical care.

Rehabilitation Therapy:

This may include physical therapy, occupational therapy, or other rehabilitation services necessary to regain mobility, strength, or function after an injury.

Prescription Medication:

The costs of necessary prescription drugs, including pain medications, antibiotics, or other treatments related to your injuries.

Long-term Care:

If your injuries result in permanent disability or require ongoing care, we can assist you in obtaining compensation for future medical expenses, including continuous treatments, therapies, or assisted living.

Specialized Medical Equipment:

Compensation may cover items like wheelchairs, crutches, braces, or other medical equipment needed for your recovery.
Lost Income
Lost income refers to the wages and other earnings you miss out on due to an accident or injury that leaves you unable to work.
If your injuries are serious enough to cause temporary or permanent disability, you may be unable to return to your job for an extended period or perform the same work as before. Your Culver City personal injury attorney can help you seek compensation for these losses. This compensation may include:
Temporary loss of earnings:

If you cannot work for a limited period while recovering, you may be entitled to damages for the wages lost during this time.

Permanent loss of earnings:

If the injuries result in a permanent disability that affects your ability to work, your compensation may also include future lost wages or loss of earning capacity.

Other financial implications:

This might also include loss of benefits such as retirement contributions, bonuses, and other compensation you would have received if not for the injury.

Loss of companionship or consortium:

In some cases, serious injuries or wrongful death will affect relationships with spouses or loved ones. Compensation may be available for these losses as well.
Pain and Suffering
Pain and suffering refers to the physical pain and emotional distress a person may endure due to an accident or injury. These are considered non-economic damages as they don't have a direct monetary value but significantly impact a person's quality of life. Compensation for pain and suffering may include:
Physical pain:

This can encompass both the immediate pain experienced during the injury and ongoing pain that persists during recovery. It may also include compensation for any permanent physical discomfort or limitations.

Emotional distress:

The psychological impact of an injury can be profound, leading to anxiety, depression,

post-traumatic stress disorder (PTSD)

, or other emotional health challenges. Emotional distress damages recognize the mental and emotional suffering caused by the injury.

Loss of enjoyment of life:

This refers to the decrease in a person's ability to enjoy the everyday activities and pleasures they engaged in before the injury.
The assessment of pain and suffering is highly subjective and can vary significantly between individuals and cases. An experienced personal injury attorney can evaluate your case and present it to a jury for pain and suffering damages.
Property Damage
Property damage is the harm or destruction of physical assets due to an accident. Whether it's a car crash, a slip-and-fall incident, or another event caused by another party's negligence, you may be entitled to compensation for repairing or replacing damaged property. This may include:
Vehicle repairs:

If you've been involved in an auto accident, compensation for property damage may cover repairing or replacing your car, motorcycle, truck, or other motor vehicles.

Personal belongings:

This can include compensation for personal items damaged in the accident, such as clothing, electronic devices, jewelry, or other valuable possessions.

Real estate damage:

If the accident resulted in damage to your home or other real estate properties, you may be able to seek funds for repairs or restoration.

Loss of use:

Sometimes, property damage can render an item unusable for a period, such as a vehicle being repaired. You may be entitled to compensation for rental costs or other expenses related to the loss of use of that property.
Punitive Damages
Finally, the court sometimes awards additional damages to punish the liable party for gross negligence or misconduct. We use the term punitive damages to describe this form of compensation.
The exact value of your claim depends on the specific details and severity of your case. A personal injury attorney can advise you on recovering full and fair compensation under California law.
Click to contact our Personal Injury Lawyers today
Why Hire Us for Your Culver City Personal Injury Claim?
Our team at Arias Sanguinetti started handling legal claims in the 1980s, and we have over 300 years of combined experience that we can turn to handling your personal injury case. We use our foundation of knowledge to craft personalized legal strategies for our clients.
We believe in open and honest communication with our clients, providing a risk-free consultation to help you review the next steps in building your legal claim. Additionally, we handle personal injury cases on a contingency basis, so you only pay legal fees after we resolve your case.
We work quickly to help you avoid issues with California's statute of limitations and stand by our record of success. We've secured millions for clients like you. You can review specific cases through our case results.
Our legal team includes:
Motor vehicle accident lawyers

Slip and fall accident lawyers

Dog bite lawyers

Product liability and defective product lawyers

Nursing home abuse lawyers

Boating accident lawyers
Complete a Free Case Evaluation form now
Speak to Us About Your Culver City Personal Injury Case
Dealing with the aftermath of an accident can be overwhelming and stressful, especially when it comes to understanding the legal process. But you don't have to face this challenging situation alone. At Arias Sanguinetti, our Culver City personal injury lawyers are committed to providing the personalized and compassionate legal support you need.
Our team is here to put you first, providing guidance and assistance through every step of the legal process. We'll take the time to discuss your legal options and develop a strategy tailored to your specific circumstances, aiming to secure the fair damages you deserve. Learn more by calling or filling out our online contact form.
Call or text 310-844-9696 or complete a Free Case Evaluation form