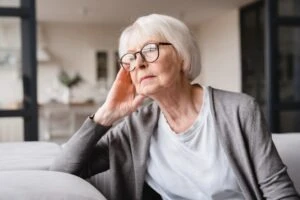 If you or someone you know has been a victim of elder abuse, you may be struggling with what to do next. How long do you have to start taking legal action and begin the process of seeking justice? If you suspect a friend or family member has been subjected to elder abuse in a nursing home, what signs should you be in pursuit of, and what are the next best steps for you to follow?
If you are looking for more information about elder abuse law in Las Vegas, we may be able to help. At Arias Sanguinetti, we have significant experience in elder abuse and employment law, so we know the ins and outs of these kinds of cases. Contact us to speak with a Las Vegas personal injury lawyer today.
Common Warning Signs of Neglect and Abuse in Nursing Homes
There are many potential signs that may point to elder abuse, and if you know someone who is under the long-term care of a nursing home or another institution, it may be useful to keep these signs in mind.
The following symptoms of elder neglect and abuse may also present themselves if your loved one is under the care of another friend or family member:
Bruising

Hunger or starvation

Head injuries

Over or under-medicating

Receiving false remedies for medical conditions

Overcharging for medical treatment (financial abuse or financial exploitation)

Medicaid fraud

Forged signatures

Signs of stolen property or money

Mental harm (emotional abuse)

Bleeding

Poor hygiene

Sexual abuse

Evidence of STIs or STDs

Signs of bodily harm
An elderly person may directly or indirectly tell you about their abusive situation. If you notice any potential red flags or signs of abuse, your elder abuse attorney may be able to help you build a strong case for the harmed elderly person in your life.
The Nevada Statute of Limitations to Make an Elder Abuse Claim
Nevada has a two-year statute of limitations for elder abuse claims. This means you have two years from the date of discovery of the physical abuse to file a claim and start taking legal action. This often includes physical assault and battery.
If you or someone you know above the age of 60 has been subjected to physical abuse, whether at a nursing home or elsewhere, consider taking swift legal action. In certain circumstances, the statute of limitations may be extended, but it is far better to act sooner rather than later. If you want to determine if you are eligible for an extension, please discuss the details of your case with a qualified Las Vegas elder abuse lawyer.
Las Vegas Elder Abuse Lawyer Near Me 310-844-9696
Suggestions for Next Steps Following Elder Abuse
If a loved one suffered elder abuse, you may find these suggestions useful if you plan on taking legal action.
Seek Medical Attention
If there is any chance an elderly person in your life has been harmed, we strongly recommend sending them to a third-party facility and seeking medical attention. There, doctors and nurses may be able to fully assess the situation, provide treatment for their physical injuries, and prevent their condition from worsening.
While you may be afraid to trust medical professionals after a negative experience, assessing the situation is necessary if you want justice and the monetary compensation necessary for your loved one to be made whole again.
Contact the Proper Authorities
Depending on whether there are immediate dangers, contact the proper authorities if you believe your loved one was subjected to elder abuse. In an emergency, dial 911 to receive immediate assistance. However, we recommend contacting Adult Protective Services if you are not experiencing an immediate emergency.
Adult Protective Services in Las Vegas should be able to conduct a preliminary screening of the elder care facility, including any social workers who have cared for you. They may also be able to determine whether any employees have a history of reprimands or complaints relevant to the circumstances.
Move to Safety
In any situation where your loved one has experienced abuse, it is essential to remove them from the dangerous situation as quickly as possible. If you suspect elder abuse, try to find alternate housing or care. They must swiftly receive adequate nutrition and medical attention and maintain a good quality of life.
You may move the elderly person into temporary housing and request at-home care to come to them, either with you or with a trusted friend or family member. You may also decide to transfer them to a different nursing home. Even if there is no evidence of nursing home resident abuse at the close of investigations, it is far better to act with caution and remove your loved one from the situation.
Hire an Experienced Elder Abuse Lawyer in Las Vegas, NV
If you are planning on taking legal action, we strongly recommend you hire an experienced and qualified elder abuse lawyer. Your elder abuse attorney may be able to offer assistance in some of the following areas:
Conduct an investigation

Collect and analyze evidence

Identify the value of your claim

Maximize monetary compensation

Help with the next steps tailored to your case

Negotiation skills

Legal knowledge

Work with other experts, including medical professionals and expert witnesses

Refer you to medical professionals

Recommend other resources

Handle insurance companies and other legal representatives
During any legal proceedings, please refrain from representing yourself. Your nursing home abuse attorney is far more likely to be adequately equipped to represent you and present your case favorably and accurately in a court of law. As such, do not hesitate to get in touch with a nursing home abuse attorney to represent you as soon as possible.
Click to contact our Las Vegas Personal Injury Lawyers today
Seek Justice With Arias Sanguinetti's Las Vegas Elder Abuse Attorneys
If you are an elderly victim who has suffered abuse in Las Vegas or you know one, you do not need to feel alone. Our team of attorneys at Arias Sanguinetti | Trial Lawyers have strong knowledge of the law, and we have helped numerous clients with our resources and support. Our team is a 100% confidential and secure outlet, so you may also find significant privacy while you are working with us.
If you think we might be able to help you in your legal procession, call us to discuss the details of your case and maximize your financial compensation. Contact us now to start the process of gaining justice.
Call or text 310-844-9696 or complete a Free Case Evaluation form