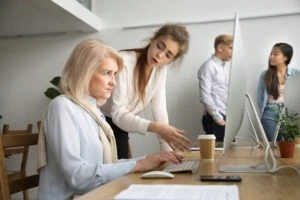 Are you facing discrimination and don't know what to do about it? Do you have evidence of discrimination and want to know your legal options? No matter what scenario best describes your situation, if you need a free assessment, our San Francisco discrimination lawyers are available to help.
The San Francisco personal injury lawyer at Arias Sanguinetti provide a free consultation in which we listen to your side to assess the strength of your case and advise you of potential next steps. 
In a risk-free session, explore how our legal team can help you seek justice, or continue reading to learn a brief overview of the basics of filing a discrimination complaint in San Francisco.
Protected Classes Covered Under Nevada's Discrimination Laws
California has some of the nation's strongest anti-discrimination laws. Knowing your rights is the first step toward justice. Under California law, the following groups of people qualify as protected classes.
Race:

All races, skin colors, and ethnicities are protected, including White, Black, Hispanic, Asian, Native American, Pacific Islander, and multiracial.

Sex/Gender:

Both men and women have protections against gender discrimination in employment, housing, and public spaces.

Age:

Individuals over 40 years old are shielded from age discrimination in the workplace.

Religion:

People of all faith practices, including clothing, grooming, diet, holidays, etc., are protected.

National origin:

Place of birth, ancestry, ethnicity, accent, and language use are protected classes.

Disability:

Nevada requires reasonable accommodations for physical, mental, intellectual, and developmental disabilities.

Sexual orientation:

Discrimination protections exist for being lesbian, gay, bisexual, or transgender.

Medical condition:

Californians cannot face discrimination over medical conditions like cancer, genetic characteristics, or pregnancy.

Citizenship:

Citizenship and immigration status, including language limits, are protected in employment.

Military service:

Current and former military members and their families have protections against discrimination.
What Are the Benefits of Hiring an Attorney for a Discrimination Case?
When it comes to discrimination cases, having experienced legal representation is crucial. A skilled discrimination attorney in San Francisco can help protect your rights and ensure that you get the best possible outcome in your case. Our legal professionals provide the following services:
Reviewing the details of your case to determine if illegal discrimination has occurred.

Advising you on the laws that apply, and your rights and options.

Drafting demand letters calling for corrective action from the employer.

Filing complaints and charges with the EEOC or state agencies on your behalf.

Representing you in mediation and negotiations to reach a fair settlement.

Investigating your case through discovery procedures like depositions, interrogatories, and document/data requests.

Retaining expert witnesses to analyze and testify about evidence of discrimination.

Filing lawsuits in court alleging discrimination and civil rights violations.

Handling pre-trial motions and legal arguments before the judge.

Voir dire and jury selection for the trial of your case.

Presenting evidence and arguing your case in front of a jury or judge at trial.

Enforcing the judgment/settlement to ensure you receive awarded damages.
San Francisco Workplace Discrimination Lawyer Near Me 310-844-9696
Filing a Discrimination Claim in California
Before bringing a discrimination claim in court, your attorney must first file a charge with the Equal Employment Opportunity Commission (EEOC). The EEOC will investigate your case and determine if there is evidence of discrimination.
If the EEOC determines there has been discrimination, they may attempt to mediate between you and the alleged wrongdoer to reach a settlement. If a settlement cannot be reached, then your San Francisco discrimination lawyer may proceed to file a lawsuit in civil court.
Click to contact our San Francisco Personal Injury Lawyers today
What You Need to Prove in a Discrimination Lawsuit
To have a successful discrimination claim, you must prove that the action taken against you was based on your age, race, sex, religion, or national origin. Additionally, you must be able to demonstrate that the discriminatory action caused you harm in some way. Courts will typically evaluate the totality of circumstances when determining if discrimination was truly a factor.
Complete a Free Case Evaluation form now
Potential Discrimination Lawsuit Settlement Factors
Lost wages and lost benefits:

You may be able to recover any money that was lost due to the discriminatory action, including denied advancement opportunities or back pay from lost job opportunities.

Damages for emotional distress:

Discrimination victims may seek compensation for the psychological trauma the discriminatory action caused.

Punitive damages:

In certain cases, a court may award

punitive damages

to punish the wrongdoer and deter similar actions in the future.

Attorney fees and costs:

You may be able to seek reimbursement for any costs you incurred through your San Francisco discrimination lawyer while pursuing your suit.
What You Need to Know About Filing a Discrimination Case
Filing a discrimination claim can be intimidating, but with the right knowledge and resources, you can protect your rights and ensure justice is served. Here are some things to consider before beginning the process:
How Long does a Discrimination Case Usually Take to Resolve?
The timeline truly varies case by case. Simple claims could settle within three to six months, while extensive litigation may take years. Factors like the complexity of evidence, number of parties, backlog of legal motions, and appeals all impact the duration. A San Francisco discrimination attorney keeps the process moving efficiently.
Are There Time Limits for Filing a Discrimination Claim?
Yes, strict statutes of limitations apply. For employment discrimination, you must file a complaint with the California Department of Fair Employment and Housing (CDFEH) within one year and file a discrimination case within three years, according to California's filing deadline.
What Are My Chances of Winning a Discrimination Lawsuit?
No guarantee exists, but building a strong case maximizes your probability of success. An experienced discrimination attorney can uncover circumstantial evidence, find witnesses, demonstrate biased patterns, and incorporate legal precedents. Many valid cases settle favorably before trial.
Speak With a Discrimination Attorney in San Francisco Immediately
If you or a loved one has been the victim of discrimination, contact the experienced employment lawyers of Arias Sanguinetti | Trial Lawyers. With over 200 years of collective legal experience, we have helped hundreds of clients successfully navigate the legal system and obtain justice for their discrimination claims.
We will treat your case with aggressive advocacy and compassionate care during this difficult time. You have nothing to lose and everything to gain; we are here when you are ready to pursue legal action.
Call or text 310-844-9696 or complete a Free Case Evaluation form