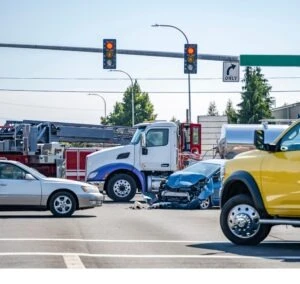 If you were involved in a collision with a large commercial vehicle such as an 18-wheeler, big rig, or tractor-trailer, you may be eligible to seek compensation for your injuries and other losses.
The California personal injury lawyers from Arias Sanguinetti understand the severity of these accidents. Our dedicated legal team will work aggressively to obtain damages to cover your medical care, vehicle repairs, lost wages, pain, and suffering. Whether negotiating a fair settlement with insurance companies or filing a lawsuit, our personal injury lawyers will advocate for your rights and achieve the best outcome for your situation.
Don't wait to take action. Contact us today by completing our online form or calling our office for an initial consultation.
Can You Get Damages for a Truck Accident?
Yes, you can potentially recover damages if you sustain injuries in a commercial truck accident that another party caused through negligence or wrongdoing. Depending on your situation, a truck accident attorney may help you secure funds for various losses.
This could include compensation for medical expenses, property damage, lost wages, pain and suffering, and other financial and emotional impacts of the accident.
Economic Damages for a Truck Accident
Economic damages are those that can be objectively quantified. They can include costs for medical professionals, hospital bills, surgical costs, rehabilitation therapy, and ongoing medical care.
Lost wages from missing work during recovery, as well as loss of future earnings if the injury leads to permanent disability, also fall into this category.
Additionally, the repair or replacement costs for vehicles or other property damaged in the truck crash are considered economic damages. Engaging a truck accident attorney who understands these financial complexities can help ensure you receive fair compensation for all economic damages incurred.
Non-Economic Damages for a Truck Accident
Your truck accident lawyer will also help you seek damages for the more intangible impacts of a trucking accident, including:
Pain and suffering:

Reflecting both the physical pain and emotional distress experienced due to the accident.

Loss of companionship:

Particularly if the accident impacted a close relationship or resulted in the death of a loved one.

Reduced quality of life:

If the injuries limit your ability to enjoy activities and daily living.

Emotional distress:

Including psychological effects from the accident.
Understanding and quantifying these subjective losses requires a personal injury attorney who can effectively present and negotiate these aspects of your claim.
Punitive Damages for a Truck Accident
Punitive damages are a special category of damages that may be awarded in certain truck accident cases.
Unlike compensatory damages, which aim to make the truck accident victim whole, punitive damages are designed to punish the offender and deter similar behavior in the future.
We may assist you in pursuing these damages if your case involves gross negligence or reckless conduct by the truck driver or trucking company.
In instances where the responsible party's actions are deemed particularly egregious, the courts may award this additional compensation to send a message that such behavior will not be tolerated.
How Much Compensation do You Get for a California Truck Wreck?
The value of a truck accident claim in California depends on the circumstances and severity of your injuries and losses. Each case is unique, and an experienced truck accident attorney in California will consider various factors.
Medical Expenses
These include medical expenses, both current and future, such as surgery, rehabilitation, therapy, and medication. Lost income due to time away from work and potential future loss of earnings due to long-term or permanent disability also contribute to the claim's value.
Property Damage
The costs associated with repairing or replacing your vehicle and any other personal property damaged in the wreck are considered, as well as compensation for physical pain, emotional trauma, or lasting psychological effects.
Punitive Damages
In instances where the truck driver or trucking company acted grossly negligent or recklessly, punitive damages may be awarded to punish the wrongdoer and deter future misconduct.
By meticulously analyzing these and other factors, your lawyer can construct a compelling case, pinpointing the at-fault party's liability and substantiating the full extent of your damages.
Negotiating with insurance companies and, if necessary, litigating in court, a skilled California attorney will work to pursue the maximum compensation you are entitled to. This process may be time-consuming, but with the support of a dedicated legal professional, you can focus on recovery while your legal rights and interests are vigorously defended.
How Can a Truck Accident Lawyer Help With Your Claim for Damages?
A truck accident lawyer can assist with different aspects of your legal needs to help you secure financial compensation for all your losses. For example, a member of our personal injury law firm can:
Inspect the crash scene, collect evidence, and interview witnesses.

Negotiate with insurers and push for a full settlement.

Establish that the truck driver or trucking company acted negligently.

Calculate the full scope of your economic and non-economic damages.

Handle demanding legal paperwork, court documents, and compliance requirements.

Retain accident reconstructionists, doctors, and specialists to validate your case.

Provide guidance on whether a settlement offer is adequate based on case specifics.
We manage the legal case while you focus energy on healing from the truck accident and aggressively pursue full damages for medical bills, lost income, and pain and suffering.
Who Can You Sue for a Truck Accident?
Our truck accident lawyers will review all potentially liable parties after a collision. We may recommend settling and will help you file a lawsuit if needed. We will dig into the facts of your personal injury claim and help you build a case against:
The Truck Driver
You may pursue a claim against a trucker if driver negligence, such as speeding, distraction, fatigue, impairment, or recklessness, caused the crash.
The Trucking Company
You may have a chance to sue the trucking company if company policies, inadequate training, poor maintenance, or overloading contributed to your collision, injuries, and financial losses.
The Truck Manufacturer
In some cases, truck manufacturers share liability for accidents. A truck accident attorney may build this kind of claim if a mechanical defect or flaw causes the accident. Reach out to us to learn more about this option.
Why Pick Us for Your Truck Accident Claim?
Our team at Arias Sanguinetti | Trial Lawyers provides you with experienced legal advice after a truck accident. We have over 200 combined years of experience, with our firm handling claims since the 1980s. We use the foundation of our experience to customize our services for each client.
We listen to your legal concerns and develop a personalized plan to bring you full compensation for your losses. You can review our case results to learn about specific claims we've resolved, including a case that allowed us to secure $10 million for a client struck by a trash truck.
We protect you from deceitful insurance practices, will handle negotiations, and aren't afraid to take your claim to court when necessary.
How Much does a Truck Accident Lawyer Charge?
Our team handles truck accident claims on a contingency basis. Therefore, we only charge legal fees after we resolve your claim, either through a settlement or a court verdict in your favor.
After resolving your claim, your truck accident lawyer receives a percentage of your final financial award as compensation. For that reason, the cost of working with a truck accident law firm can vary.
What Is the Statute of Limitations for Truck Accidents?
In California, the statute of limitations for filing a truck accident lawsuit gives you a set timeframe, typically a few years, to move forward with your legal claim. This legal deadline is crucial to understand, as missing it may result in the complete loss of your right to pursue compensation for your injuries and other losses.
The clock usually starts ticking from the accident date, so contacting and retaining an experienced truck accident attorney as soon as possible after the crash is essential. An experienced attorney will provide specific guidance for the claim filing timeline and work to preserve evidence, interview witnesses, and build your case.
By taking prompt action, you can protect your right to pursue compensation via a lawsuit before the statute expires and give yourself the best chance at a successful recovery.
Speak to Us After a Truck Accident in California
You can work with a California truck accident lawyer from Arias Sanguinetti to build a legal claim for fair compensation after a collision. We specialize in handling accidents involving large commercial vehicles and serious injuries. Our team is dedicated to fighting for your rights and ensuring you get the justice you deserve.
Don't hesitate to take the necessary steps to begin your legal journey with us. Learn more by completing our online contact form or calling us today. We're here to help.