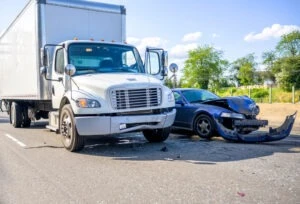 Truck accidents can be some of the most devastating collisions on the roads. But what are the most common factors that lead to truck accidents? Understanding what causes most truck accidents is key to preventing them and keeping our roads safe for all drivers.
Here, we'll explore the various causes of truck crashes and what we can do to prevent them. We'll also discuss the importance of safety measures for big rigs and how to identify potential risks when driving around them. Contact a Los Angeles truck accident lawyer from Arias Sanguinetti if you've been involved in a collision.
Common Causes of Trucking Accidents
Truck accidents can happen for a variety of reasons, and understanding the causes is essential in preventing them. Several factors can contribute to truck accidents on the road, including the following:
Driver errors:

This includes fatigue and sleep deprivation, speeding and reckless driving, and distracted driving. Truck drivers often face long hours and tight schedules, leading to exhaustion and a higher risk of accidents.

Negligent driving:

Speeding and reckless driving behaviors can increase the chances of losing control and colliding with other vehicles.

Distracted driving:

Actions such as texting or talking on the phone can also divert a driver's attention from the road and lead to devastating accidents.

Mechanical failures and improper maintenance:

These factors can also be causes of accidents. Issues with brakes, tires, steering systems, and suspension components can all contribute to loss of control and collisions.

Hazardous road conditions:

Bad conditions, such as

severe weather

and poor infrastructure, can make driving treacherous for truck drivers and increase the likelihood of accidents.
By understanding these causes and implementing preventive measures, we can work towards creating a safer road environment for everyone. Truck drivers, trucking companies, and regulatory authorities need to prioritize safety and take necessary steps to mitigate the risks associated with truck accidents.
Why Are Truck Accidents So Dangerous?
Truck accidents are no minor matter. They can result in catastrophic consequences, causing significant damage to both property and human lives. But what exactly makes trucking accidents so devastating in comparison to regular motor vehicle collisions?
Size and Weight
The sheer size and weight of trucks amplify the dangers they pose on the road. When a truck collides with another vehicle, the force involved can be devastating, often resulting in serious injuries or fatalities.
Multi-Vehicle Accident Potential
Due to their size, trucks have a longer stopping distance and reduced maneuverability compared to smaller vehicles. If a truck driver needs to stop suddenly or swerve to avoid an obstacle, they may not be able to do so in time, potentially leading to a chain reaction of collisions.
Heavy Cargo
Many trucks transport hazardous materials or heavy cargo that can become unstable during an accident. This can lead to spills, explosions, or falling debris, posing a serious threat to both the truck driver and other drivers on the road.
Long-Lasting Effects on Victims
In addition to the immediate dangers of truck accidents, there are also long-lasting effects to consider. Survivors may suffer from physical injuries, psychological trauma, and financial hardships due to medical expenses, lost wages, and property damage.
7 Tips for Avoiding Collisions With Large Trucks
When it comes to sharing the road with big rigs, it's important to take precautions to avoid accidents. Here are some tips for staying safe around trucks:
Give them space:

Big trucks need more time and distance to stop than smaller vehicles. Avoid tailgating and maintain a safe following distance to give them ample room to maneuver.

Avoid blind spots:

Trucks have large blind spots, known as "no-zones," on their sides and rear. Stay out of these areas to ensure the truck driver can see you.

Use extra caution when passing:

When passing a truck, ensure you have plenty of room and signal your intentions. Avoid lingering in their blind spots and complete the pass quickly and safely.

Be aware of turning trucks:

Trucks require more space to turn, so be cautious when a truck is signaling to turn. Give them enough room, and don't try to squeeze past them.

Be patient and predictable:

Trucks have limited maneuverability, so be patient and avoid sudden lane changes or unpredictable behavior that can startle the truck driver.

Stay focused and avoid distractions:

Distracted driving is dangerous for everyone, but it's especially risky around big trucks. Keep your attention on the road and avoid distractions like texting or eating.

Follow traffic laws:

Obeying speed limits, traffic signals, and other traffic laws is crucial when sharing the road with trucks. Following the rules of the road will help maintain a safer environment for everyone.
Remember, it's a shared responsibility to ensure road safety. By being aware, alert, and considerate, we can all play a part in avoiding accidents with trucks and keeping our roads safe.
Click to contact our abogados de lesiones personales today
Contact a Truck Accident Lawyer at Arias Sanguinetti for Help
Now you know what causes most truck accidents, and these accidents are not to be taken lightly. The dangers they pose, both immediate and long-lasting, make it essential for us to understand and address the factors that contribute to these accidents.
By promoting safety measures, enforcing regulations, and improving road infrastructure, we can work towards preventing truck accidents and ensuring the well-being of all drivers on the road. If you've been involved in a collision with a truck, don't wait to contact the legal team at Arias Sanguinetti now to find out if you're entitled to financial compensation.
Call or text 310-844-9696 or complete a Free Case Evaluation form