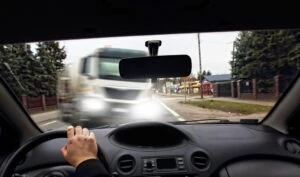 There are a variety of different types of truck accidents. However, what most of these accidents have in common is that they almost always result in severe damage. If you were involved in an accident with a commercial truck, recovering damages can be critical for getting your life back on track.
At Arias Sanguinetti, we have a long history of helping accident victims recover the compensation they need and deserve after a crash with a commercial vehicle. Our team of Los Angeles truck accident lawyers has plenty of experience taking on the big trucking companies and winning. Reach out today to schedule a free case review.
Different Types of Truck Accidents
There are dozens of different types of truck accidents that can lead to severe injuries. Some of the most common types of truck accidents include:
Rollover accidents

Jackknife accidents

Wide-turn accidents

Head-on collisions

Rear-end collisions

T-bone collisions

Sideswipe accidents
Rollover Accidents
Rollover accidents are a serious cause for concern with large trucks. Not only is there a high risk of rollovers with these vehicles due to their high center of gravity, but the resulting damages from this type of collision can be catastrophic.
Most multi-vehicle accidents involving large trucks are caused by a truck rolling over while going around a turn or making a quick lane change. The chances of a rollover accident increase significantly if the cargo was improperly loaded or if the driver engages in negligent behavior like speeding, driving under the influence, or distracted driving.
Jackknife Accidents
Jackknife accidents occur with tractor-trailers. In these accidents, the trailer swings around like a folding jackknife. In jackknife truck accidents, the danger to others is severe as the truck driver has no control over the trailer.
A combination of bad weather and improper braking usually causes jackknife accidents. If a truck driver breaks too hard, they can cause the tractor to stop more quickly than the trailer. The trailer continues on, whipping in one direction or the other.
Wide-Turn Accidents
Commercial trucks must take wider turns than smaller passenger vehicles. This can cause a hazard to other vehicles in neighboring lanes if the truck driver and surrounding vehicles do not take caution. If a truck driver caused you damages in a wide-turn accident due to negligence, a truck accident attorney from our team can help you secure compensation.
Head-On Collisions
Head-on collisions involving commercial trucks are often deadly. The size and weight of these large trucks, along with the combined speed of both the truck and the vehicle with which it collides, add up to severe damage to the smaller vehicle.
Rear-End Collisions
While rear-end collisions between passenger vehicles are often minor fender benders, resulting in mild or no injuries, the same is not true of rear-end collisions with commercial trucks. The size and weight of these larger vehicles can easily result in the smaller vehicle being crushed by the oncoming truck.
Because of their weight, commercial trucks require more time to stop. If a truck was following you too closely, they may have been negligent.
T-Bone Collisions
A t-bone accident occurs when a truck crashes into the side of a vehicle. These accidents are most common in intersections and can occur for a variety of reasons, including running red lights or stop signs, broken signals, uncontrolled intersections, and poor weather conditions.
The damage to drivers or passengers on the side of the vehicle where the impact occurred tends to be particularly devastating. If a truck driver fails to obey traffic laws, they may be guilty of criminal negligence. In this case, your truck accident lawyer may be able to recover punitive damages on your behalf, which can result in a significant improvement to your case result.
Sideswipe Accidents
In a sideswipe accident, both the truck and other vehicle are traveling side by side, and the two sides of the vehicles come into contact. Sideswipe accidents with commercial trucks are often the result of the truck driver failing to adequately check their various blind spots before changing lanes.
While the impact with the truck is often less severe than in many other types of truck accidents, the collision can force the driver of the smaller vehicle into another lane, which can put them at further risk for additional collisions and catastrophic damage.
Act Quickly After a Truck Accident
No matter the type of truck accident you were involved in, taking action quickly to recover compensation is critical. Each state has a statute of limitations that dictates the amount of time you have to take action. If you miss the filing deadline, you will likely be out of options for recovering compensation.
Furthermore, by hiring a truck accident lawyer quickly, you will put them in the best position to collect evidence and prove the other party's fault. Additionally, any witness testimony you rely upon will be much more credible the closer it is given to the date of the accident.
Get Help from an Experienced Truck Accident Lawyer Today
If you were injured in a truck accident, securing the services of an experienced truck accident lawyer can be critical. Large trucking companies have deep pockets and often have legal counsel on retainer. To fight back against the big guys, you need an attorney with a proven track record.
At Arias Sanguinetti, we have a long history of helping accident victims get back on their feet. Contact us today by using our online contact form, messaging us on our chat tool, or giving us a call and schedule your free case consultation.