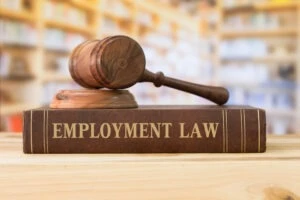 If you are a California employee, understanding the complex state and federal employment laws is essential to running a successful business or protecting your rights. With experience in all aspects of employment law, from wrongful termination to wage disputes, our successful California employment lawyers can help you if you wish to file a case.
At the Law Offices of Arias Sanguinetti, our attorneys are knowledgeable about discrimination laws, wage regulations, labor disputes, and more. Our team is dedicated to helping employers comply with the law or protecting the rights of employees who seek justice.
If you need help understanding your legal options or requirements, we can provide you with effective legal advice and representation. Keep reading or connect with us to learn more about our services and how we can help you.
Employment Law vs. Labor Law – Understanding the Differences
Employment law and labor law are related but distinct areas of legal practice. They both involve the rights and responsibilities of employers and employees, but there are some important differences to understand.
Employment Law Defined
Employment law deals with the relationship between employers and employees as individuals. It covers areas like:
Discrimination and harassment laws

Wage and overtime regulations

Safety standards and workers' compensation

Privacy rights and

family/medical leave

Hiring and termination requirements

Non-compete and employment contracts
Labor Law Explained
Labor law focuses on the rights of groups of employees and the regulations governing organized labor unions and collective bargaining. Key aspects of labor law include:
Allowing workers to organize into unions

Establishing bargaining powers between unions and management

Regulating union election procedures

Protecting organized labor activities like strikes and picketing

Setting standards for collective bargaining agreements

Enforcing unfair labor practice prohibitions
Employment law deals with the legal rights of individual employees, while labor law focuses on establishing and enforcing collective agreements between employers and unions or other employee organizations. Both provide important worker protections and oversight of workplace standards. With the help of a trusted attorney, you will come to understand what applies to your case.
What Types of Cases вo Our California Employment Lawyers Handle?
As experienced California employment law attorneys, our firm handles a wide range of employee-employer disputes and cases, including:
Wrongful Termination
Fighting improper firing based on discrimination, retaliation, whistleblower status, contract breaches, and violations of public policy protections under

California's Fair Employment and Housing Act (FEHA)

and labor laws.

Challenging wrongful termination for taking sick leave or time off entitled under state family and medical leave (FMLA) provisions.
Workplace Discrimination
Protecting employees from harassment, bias, or adverse actions based on race, gender, age, disability, sexual orientation, and other protected characteristics is illegal under FEHA and federal laws.

Securing reasonable accommodations for disabilities and religious beliefs is mandated by California regulations.

Defending victims of sexual harassment and assault in the workplace through civil rights claims and tort actions.
Wage and Hour Violations
Recovering owed compensation for unpaid wages, overtime, breaks, vacation time, expenses, bonuses, and benefits denied in violation of California wage laws.

Challenging employee misclassification as contractors or other categories to avoid paying legal wages and benefits.

Representing workers in disputes over meal and rest break violations, timing of final paychecks, and improper wage deductions.
Labor Law and Union Issues
Protecting workers' NLRA rights to organize, collectively bargain, strike, and engage in other protected concerted labor activities.

Assisting unionized employees with grievances, contract negotiations, and unfair labor practices charges.

Advising non-unionized employees on forming new bargaining units and conducting union elections.
We leverage our employment law knowledge to protect employee rights and secure the maximum results in every case.
Type of Compensation Recovered from an Employment Lawsuit
If you have been the victim of an employment law violation, you may be able to recover compensation. This can include lost wages and benefits, as well as damages for emotional distress, pain and suffering, and other losses. The amount of compensation that can be recovered depends on the details of your individual case and the laws in your jurisdiction.
Generally speaking, it is possible to recover back pay, front pay, compensatory damages, and punitive damages. An experienced employment lawyer can help you understand the specifics of your case and determine what type of compensation you may be entitled to.
When to Hire an Experienced California Employment Lawyer
Hiring an experienced lawyer is important for any individual or business facing a legal dispute. Our attorneys can provide knowledgeable legal advice and representation and help ensure that you understand your alternatives and that you are acting within your own best interests.
If you have been wrongfully terminated or believe that you are the victim of discrimination or harassment, our experienced attorneys can provide the legal advice and advocacy you need to be confident that your rights are not being infringed upon. No matter what type of employment dispute you are facing, we can help.
Be Empowered With the Help of a California Employment Lawyer
The California employment attorneys of Arias Sanguinetti can provide legal advice and representation to help ensure that your interests are protected.
Our lawyers will work with you to understand your situation and create a strategy that is tailored to meet your needs. Our team is committed to providing you with the highest quality legal services and ensuring that your rights are protected. Contact us today for more information.