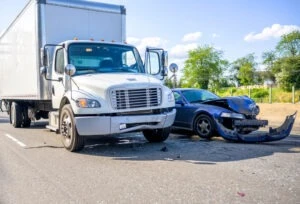 Settling a truck accident claim involves more than just recouping medical bills and lost income. It's about being made whole again after suffering life-altering injuries through no fault of your own. You may feel pressure to resolve your case quickly, but patience is key to maximizing your settlement value.
So, how much should you settle for after a truck collision? It depends, but rushing into a low offer would be doing yourself a great disservice. You deserve full and fair compensation. The Los Angeles truck accident attorneys at Arias Sanguinetti have over 30 years of experience handling truck injury cases and have compiled our knowledge to help you make an informed decision.
To win a settlement that provides long-term security and allows you to move forward, explore the frequently asked questions in this guide or contact a commercial truck accident attorney near you.
How do You Calculate a Settlement Amount for a Truck Accident?
The settlement value of a commercial truck accident claim depends on the specific economic and non-economic losses stemming from the crash.
Economic damages like medical bills and lost wages are easy to quantify. Non-economic damages for pain/suffering and emotional distress are more subjective. Our experienced personal injury attorneys use evidence and the assistance of experts to estimate the value of your whole claim.
What Factors Increase the Settlement Value of a Truck Accident Claim?
Having an experienced legal team can make a huge difference when it comes to knowing what to accept for a truck wreck settlement offer. An attorney is familiar with the legal process, understands what evidence is needed, and knows how to effectively negotiate on your behalf.
The following components can greatly impact your truck accident settlement, helping you to decide how much to settle for:
Severity of injuries:

More serious injuries that require extensive medical treatment or result in permanent impairment or disability warrant higher damages.

Lost income and future earnings:

Inability to work for a prolonged time or experiences reduced earning capacity, larger lost wage claims boost settlements.

Long hospitalization or rehabilitation:

Extended hospital stays, multiple surgeries, and ongoing rehab programs validate increased general and special damages.

Significant pain and suffering:

Severe, chronic pain and emotional trauma support larger non-economic damages claims.

Permanent disability:

Settlers often compensate for amputations, loss of mobility, brain damage, and other permanent disabilities with larger payouts.

Disfigurement:

Scarring, burns, or deformities, especially on visible parts of the body, can increase non-economic damages awards.

Wrongful death:

Fatal truck accidents justify significant settlements for bereavement and lost companionship.

Egregious negligence:

Evidence showing particularly reckless behavior by the truck driver establishes clear liability, justifying

punitive damages

.

Large policies:

Defendants with extensive insurance coverage or corporate assets can pay out larger settlements.
It's important to note that evidence largely plays a role in determining settlement value as well. If you wait too long to seek legal help, proof such as the black box information or damage on the commercial truck may not be preserved properly to solidify the details of your claim.
How Much Is Pain and Suffering Worth After a Truck Accident?
There are no fixed formulas for calculating pain and suffering damages. The amount depends on the nature, extent, and duration of injuries. Estimates typically range up to five times the total of special damages like medical bills and lost income. Each case is different, which is why legal advice is important before settling for any amount insurers offer after a truck accident.
Click to contact our abogados de lesiones personales today
Can You Get a Truck Accident Settlement Check Without Filing a Lawsuit?
Yes, it is often possible to negotiate a settlement before actually filing a personal injury lawsuit through direct discussions or mediation. This avoids lengthy litigation, but the insurance company may try to lowball you, which is why hiring a truck accident attorney is recommended to get full and fair compensation.
Complete a Free Case Evaluation form now
Should You Accept the Insurance Company's First Settlement Offer?
The first offer from the insurance company is usually a lowball attempt to settle cheaply and quickly. Seek legal help to determine how much your truck accident settlement is worth settling for. Your attorney will work to gather evidence proving full damages. The back-and-forth negotiation process may result in a higher settlement offer that adequately compensates you.
How Long Will It Take to Receive a Truck Accident Settlement Check?
It can take anywhere from several months to a year or more to receive your settlement payout. Complex cases involving major injuries, disability, and lost income can take longer to fully document and negotiate a fair settlement. Your personal injury lawyer will pursue an equitable resolution as efficiently as possible before the statute of limitations expires.
Settling a truck accident claim involves a case-specific process of valuing all your losses and negotiating the maximum compensation you deserve. An experienced personal injury attorney can provide the legal help needed to achieve the best possible outcome.
What Difference does Having a Lawyer Make in Increasing a Settlement Offer?
Having a lawyer experienced in truck accident cases can help you get a much higher settlement offer than if you tried to negotiate alone. Insurance companies may initially try to dismiss or invalidate the claim of the victim to retain profit. The lawyers at Arias Sanguinetti will fight for the maximum compensation available, even if that means taking your injury claim to court.
Instead of wondering how much you should settle for after a truck wreck, speak to a seasoned legal professional to answer your questions. Contact a member of our team today to schedule a free consultation and learn more about gaining the most from your trucking accident.
Call or text 310-844-9696 or complete a Free Case Evaluation form