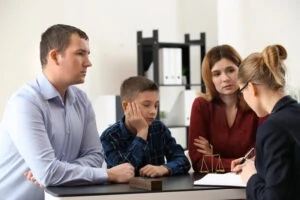 Sexual abuse is a broad term referring to any non-consensual or unwanted sexual act committed against another person. In California, intimidating, coercing, or forcing an individual to do something sexual against their will is considered sexual abuse. If you or your child has been traumatized in this way, our Westchester sexual abuse lawyer is here to help.
At Arias Sanguinetti, we understand the pain and distress rape and molestation survivors experience. Our personal injury lawyer in Westchester is committed to obtaining justice for sex crime survivors and their families. California has extended the statute of limitations for those abused as children, so don't hesitate to reach out to us, even if it has been several years.
Call now or fill out the online contact form for a free, no-obligation consultation.
Examples of Sexual Abuse Cases in Southern California
Our personal injury lawyers have a long history of representing Southern California clients who have survived sex crimes, including the following:
Child molestation
Hugging, kissing, or sexual contact without consent in a professional or institutional environment
Oral copulation
Indecent exposure at work, church, or a similar setting
Stalking
Rape, including statutory rape
Revenge porn
Sexual predators can abuse both children and adults, and their relationships with their victims vary. Abusers are often trusted family members, babysitters, teachers, or clergy members.
When the unthinkable happens, an attorney from Arias Sanguinetti can advocate for the justice and compensation you rightfully deserve.
The Role of Schools in Student Sexual Abuse
Educational institutions are responsible for ensuring the safety and well-being of their students. This obligation includes thoroughly vetting all teachers, coaches, and other employees who may have interactions with children. Additionally, schools must diligently investigate any claims related to teacher or coach sexual abuse and follow proper reporting procedures.
Regrettably, some educational institutions do not fulfill these obligations. Even more concerning, some schools attempt to conceal wrongdoing by their faculty members. When a school fails to screen coaches and teachers or address claims of abuse, affected students and their parents have the option to pursue civil action to hold the school accountable.
Legal recourse is available, and our clients often take action against both the individual abuser and the school districts that employ them. Our Westchester sexual abuse lawyer is committed to fighting for justice and promoting a culture of accountability.
Westchester Sexual Abuse Lawyer Near Me 310-844-9696
California's Extended Time Limit for Taking Legal Action
Survivors of sex crimes often wonder if they still have the right to take legal action against the perpetrator or the institution associated with the abuse.
Historically, numerous survivors ran out of time and did not get justice if they failed to take swift action against the individual or the institutions that may have covered for their employees or volunteers.
Fortunately, California's AB 218, commonly referred to as the Child Victims Act, offers hope for such survivors. This legislation facilitates childhood sexual abuse survivors' pursuit of justice by extending the statute of limitations for filing a lawsuit.
In January 2020, the statute of limitations was expanded to encompass the following:
Within five years from the date the plaintiff discovers, or should have discovered, that the illness or psychological harm they suffered after reaching the age of majority was caused by sexual assault.
Up to 22 years after the plaintiff reaches 18 (usually by the age of 40).
Many survivors of abuse by Catholic priests, Boy Scouts of America troop leaders, and other perpetrators have obtained compensation years later due to the extended deadlines. Whatever your circumstances, we encourage you to come forward by reaching out to our sexual abuse lawyer in Westchester.
Click to contact our Westchester Personal Injury Lawyers today
Obtaining Financial Compensation for Sexual Abuse
Whether a person experiences this kind of abuse as a child or an adult, it can have a profound impact on their future relationships. It can also adversely affect a person's emotions, health, finances, and spirituality.
While nothing can completely undo the damage, survivors have the right to file a lawsuit seeking damages for the abuse they endured.
Suing the liable party gives survivors a sense of justice and the opportunity to protect others from future abuse. Survivors also deserve financial compensation for the suffering they've endured. In certain situations, the court may also grant punitive damages aimed at penalizing the abusers.
Complete a Free Case Evaluation form now
Contact a Westchester Sexual Abuse Lawyer
It takes courage to hold your abuser accountable, and an understanding attorney can protect your rights and guide you through the legal process. At Arias Sanguinetti | Trial Lawyers, we are dedicated to helping our clients in their pursuit of justice for the atrocities they endured.
We offer a safe, confidential environment, ensuring your privacy is respected. Our attorneys are here to listen to your story, discuss your legal options, and provide comprehensive representation. Take the first step toward closure and healing. Contact us today for a free consultation.
Call or text 310-844-9696 or complete a Free Case Evaluation form