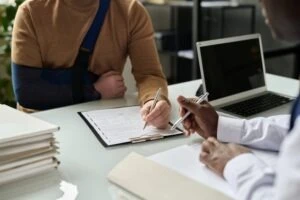 Following a truck accident, you can take various steps to help protect your rights. Knowing what to do and what to avoid can be critical for recovering the full value of your claim. The best way to ensure you are protected is by speaking with an experienced truck accident lawyer as soon as possible after your collision.
At Arias Sanguinetti, we have a long history of protecting accident victims and ensuring they recover favorable compensation from those responsible for their injuries. If you were injured in an accident with a commercial truck, reach out to us today to schedule a free consultation with one of our Los Angeles truck accident lawyers.
What to Do at the Accident Scene
There are many actions you can take at the scene of the accident to put yourself in the best position to recover the compensation you need and deserve following a truck accident.
Gather Information
If you are not seriously injured, one of the best things you can do for your case is to gather as much information about the accident as possible. Take pictures and write down any observations. Damage and debris truck accidents are cleared away fairly quickly so that roads can be reopened, so you may not have an opportunity to gather much further evidence later on.
Don't Apologize
People often feel the instinct to apologize in these situations, even if they did nothing wrong. This is especially true if another party suffered injuries as a result of the crash. However, apologizing can be viewed as an admission of fault.
Simply saying you are sorry can make it challenging to recover the money you need and can even open you up to a potential claim from the other party.
Minimize Communication With Other Involved Parties
While you need to check that other involved parties are okay and exchange insurance information, that should be the extent of your communication. Even if an exchange seems friendly, there is always the possibility that you will say something that is later used against you.
Speak With Witnesses
While speaking with other involved parties is ill-advised, you should speak with any witnesses to the crash. Ask what they saw, collect their contact information, and inquire about their willingness to testify.
Seek Medical Attention
Even if you are uninjured, you should seek medical attention from EMTs on the scene. There is always the possibility that adrenaline is masking an injury. If you fail to get checked out, you may not discover an injury until days after the fact. At this point, it can be challenging to prove that the injury was caused by the truck crash rather than an unrelated incident.
Even if you get a clean bill of health from the emergency responders, you should still go to a hospital or urgent care client for a full check-up to ensure that you are alright.
Retain the Services of an Experienced Truck Accident Attorney
One of the most important ways to protect your rights after suffering damages in a truck accident is by hiring an experienced truck accident lawyer. An attorney from our team can help collect all available evidence and prove the fault of another party.
Additionally, your lawyer can identify all applicable deadlines and ensure all the necessary paperwork is completed and filed well before time runs out.
Your lawyer can also identify any other obstacles that may hinder recovering the compensation you deserve. After identifying these obstacles, your lawyer will work diligently to overcome them and get you back on your feet.
Be Wary When Dealing With Insurers
One of the most common ways in which truck accident victims lose their right to recover compensation is in dealing with insurance providers. After an accident, these companies will do everything in their power to deny or devalue your claim. They have a whole book of tricks they will use to prevent you from securing a favorable case result.
It is critical that you proceed with caution in any interaction with an insurer after an accident. Minimizing communication is the best way to protect yourself. Politely decline to make a statement and don't accept any settlement offers until you have retained the services of an experienced truck accident lawyer.
Once you hire an attorney, the insurer will be unable to contact you directly. Instead, all communication will go through your lawyer. Without a direct line of communication, the insurers will be unable to employ the tricks they would otherwise use, and you will be negotiating on a much more even playing field.
Click to contact our abogados de lesiones personales today
Reach Out to an Experienced Law Firm Today
Working with an experienced truck accident lawyer is critical when pursuing compensation after an accident. Your attorney will build a strong case on your behalf and ensure you are ready for court if necessary. At Arias Sanguinetti, we have a long history of helping accident victims recover the compensation they need and deserve.
Contact us today by phone or through our website to schedule a free consultation with an experienced attorney from our firm.
Call or text 310-844-9696 or complete a Free Case Evaluation form