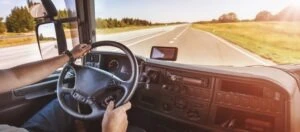 Who bears responsibility when a loaded eighteen-wheeler crushes a family sedan? Are the victims powerless against the corporations backing big rigs? Adding to an already stressful situation, questions about monetary recovery, accountability, and healing from catastrophic injuries don't have to keep you up at night. Though it may be complicated to determine who is liable for a truck accident, through our resources and experience, Arias Sanguinetti truck accident lawyers are able to pinpoint accountable parties and hold them responsible.
After an accident, insurance companies, trucking companies, and all involved parties will likely point fingers at each other and fail to take accountability. The Los Angeles trucking accident lawyers at Arias Sanguinetti can help you determine if the truck driver, the trucking agency, or other parties may be liable for your truck collision.
Who Is at Fault If a Truck Driver Causes an Accident?
The truck driver is the primary liable party if their negligent driving or traffic violations directly resulted in the crash. Common truck driver errors like speeding, distraction, impairment, or ignoring logbook limits often cause devastating collisions. Identifying the specific driver behaviors that led to the accident is key.
When Is the Trucking Company Liable for a Driver's Negligence?
The legal doctrine of vicarious liability makes trucking companies responsible for the negligence of their employee drivers under respondeat superior laws. Companies have a duty to properly hire, train, and supervise drivers to ensure public safety. Failure to prevent foreseeable driver negligence leads to company liability.
What Legal Doctrine Governs Trucking Company Liability?
State and Federal trucking laws establish vicarious liability for employers regarding employees. If a driver was acting within the scope of their work duties when the negligent conduct occurred, the trucking company shares liability regardless of any direct fault. Plaintiffs can include the corporate entity as a defendant.
Laws governing trucking regulations vary state by state, and it is crucial that your truck accident attorney understands the laws in the state where your accident occurred. The truck accident attorneys at Arias Sanguinetti carry licenses to practice law in California, Illinois, Nevada, New Jersey, New York, Washington D.C., and beyond.
Click to contact our abogados de lesiones personales today
What Types of Negligence By a Truck Driver Lead to Company Liability?
According to the National Safety Council (NSC), there has been almost a 50% increase in commercial truck accidents over the last 10 years. Negligence and reckless behavior usually come to light during the investigative process. Legal action is often necessary to seek financial compensation from all responsible parties.
The Federal Motor Carrier Safety Administration (FMCSA) compiled a list of the most common reasons truck drivers were found liable for trucking accidents. The causes include the following:
Fatigued driving:

Handling an 80,000-pound rig requires full alertness. When drowsy drivers nod off and drift lanes, wrecks follow. Violating rest regulations shows disregard for safety.

Distracted driving:

Eating, texting, tuning radios – drivers who become engrossed in distractions often react too late. Inattention causes thousands of accidents annually.

Impaired driving:

Intoxicants like alcohol or drugs significantly slow response time. Truckers under such influences regularly cause catastrophic pile-ups. This violation of ethics and laws is inexcusable.

Speeding/Aggressive driving:

Barreling down highways while pursuing delivery goals ignores speed limits. Sudden swerving through congestion increases crash risks. Patience prevents accidents.

Ignoring maintenance issues:

Failure to report wobbly steering, faulty brakes, bald tires, or broken lights is negligent. These mechanical defects cause breakdowns and collisions.

Violating logbook limits:

Exceeding strict service hour regulations leads to exhausted drivers. Pushing the limits on deliveries endangers everyone sharing the roads.
Though truck drivers bear immense responsibility, their actions reflect company training, supervision, and priorities. A commercial vehicle accident lawyer can assist in pinpointing if the driver is solely responsible or shares fault with the trucking company for a collision.
Complete a Free Case Evaluation form now
Can Both the Driver and Trucking Company Be Held Responsible After a Truck Wreck?
Yes, it is common in truck accident claims for plaintiffs to pursue compensation from both the negligent employee truck driver as well as the trucking company defendant under vicarious liability. Both parties' insurance policies can be utilized to cover damages. Examples of such instances may include :
The driver was negligently hired by the company despite a poor driving history or lack of qualifications.

The company failed to properly train the driver on safe operating procedures and compliance with regulations.

The truck driver was forced to exceed legal hourly limits on driving times due to company delivery demands.

The company failed to properly maintain the truck's brakes, tires, or other essential equipment leading to a crash.

Dispatchers coerced the driver to operate in unsafe conditions like bad weather or while fatigued.

The company was aware of the driver's pattern of violations like speeding or logbook cheating but took no disciplinary action.

The driver and trucking company conspired to falsify records in violation of regulations.

The company's compensation system and bonuses created incentives for drivers to break laws.

Both parties failed to inspect cargo loads to prevent dangerous shifting of weight.
How does Hiring Lawyers Help Determine If the Truck Driver or the Trucking Agency Is Responsible?
Experienced truck accident attorneys have the resources to investigate who precisely caused the crash by reconstructing the scene, reviewing electronic logs, inspecting crash recording equipment, hiring experts, and taking witness statements.
What Compensation Can You Recover from a Liable Truck Driver or Company?
Successful truck accident claims lead to compensation covering medical bills, lost income, property damage, loss of future earning capacity, pain and suffering, emotional distress, and wrongful death damages, if applicable. Punitive damages may also be warranted as punishment for egregiously reckless behavior.
What Factors Increase the Settlement Value?
Several key factors can substantially increase the settlement value in a truck accident claim. The severity of injuries, duration of treatment, and extent of disability or disfigurement directly impact the deserved compensation. Likewise, the negligence level of the truck driver and company and the financial resources available to pay damages affect settlement size.
How Much Insurance Coverage do Truck Drivers and Companies Carry?
Federal minimum liability insurance for trucks is $750,000, but many carry $1 million to $5 million policies per accident. Companies procure large umbrella policies, too. Team drivers and corporate owners offer multiple resources to recover full damages.
Are There Additional Responsible Parties in a Truck Crash?
In addition to the driver and trucking company, other potential defendants include:
The truck manufacturer

The truck maintenance company

The commercial vehicle's cargo loaders

Safety inspectors

Shippers

Highway designers
With expert legal advice from a qualified personal injury attorney in Los Angeles, truck accident victims can hold all negligent parties fully accountable. Justice includes recouping the compensation you need to heal and move forward.
What Legal Options Exist If Insurance Is Insufficient to Cover Damages?
Underinsured and uninsured motorist coverage can help fill gaps between damages and insurance limits. As a victim, you can also pursue the personal assets of drivers and company executives. Bankruptcy claims and structured settlements may assist if defendants lack the means.
Contact Arias Sanguinetti for Help With Your Case
Arias Sanguinetti | Trial Lawyers are passionate about advocating for commercial truck wreck victims and are highly capable of determining if the truck driver, trucking company, or an alternate party is liable for the collision.
If you need help following a truck accident, contact us and schedule a free consultation today.
Call or text 310-844-9696 or complete a Free Case Evaluation form