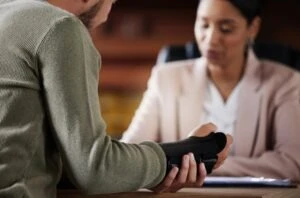 Hiring a truck accident lawyer is one of the best ways to ensure you recover the compensation you need and deserve. However, many accident victims fail to secure legal representation over fear they will not be able to afford an attorney. The good news is that these lawyers typically work on a contingency fee basis, meaning you won't pay anything out of pocket.
At Arias Sanguinetti, we won't charge you for our services unless we successfully recover compensation on your behalf. Our team of experienced Los Angeles truck accident lawyers won't charge a retainer fee or an hourly rate. Instead, we'll collect a single fee after settling your case, but only if you collect compensation from the liable party.
How does Contingency Fee Pricing Work?
When you hire an attorney on a contingency fee basis, you will not pay your lawyer anything unless they recover compensation on your behalf. If they do get you money, their fee will be assessed as a percentage of the compensation recovered from the liable party.
At the time of securing the services of an attorney, you will discuss the fee your lawyer will collect if they win your case. The contingency fee paid to your attorney will be a fixed percentage of the compensation you recover. This percentage may be different depending on whether you settle your case out of court or go to trial.
You'll Never Pay a Penny Out of Pocket
Should your lawyer succeed in recovering money from the liable party, their fee will be paid directly out of the settlement or court-ordered payout. You will never pay a single cent out of your own pocket.
This payment system makes it possible for all accident victims to secure the services of an experienced lawyer, regardless of their financial situation. You never have to worry about receiving a bill from your lawyer that you can't afford to pay. That's because you'll never receive a bill at all.
Hiring a Truck Accident Lawyer Will Likely Increase the Amount of Money You Recover
When you hire a truck accident attorney to help you recover compensation after an accident, your chances of collecting the money you need and deserve will increase significantly. Those who hire a lawyer typically receive substantially more money than those who attempt to represent themselves.
Even after your lawyer's fee has been deducted, you will likely walk away with far more money than if you neglected to hire an attorney.
One important thing to keep in mind is that even lawyers tend to hire other lawyers to represent their legal interests. Pursuing a claim on your own is unlikely to yield the result you desire. However, an experienced attorney can help ensure favorable case results.
Click to contact our abogados de lesiones personales today
An Experienced Lawyer Can Help You Recover a Wide Array of Damages
When you work with an attorney from our team, they will help you identify all the damages that apply to your case. You will likely be eligible to recover a wide range of damages, and determining all that apply can be challenging.
However, your lawyer will know exactly what to look for and will be able to help ensure you recover the full amount to which you are entitled. All recoverable damages can be divided into three categories.
Economic Damages
Economic damages are all the losses caused by your accident that directly impact your finances. Among the most frequently recovered economic damages in truck accident cases are:
Medical expenses

Projected medical costs

Lost wages

Lost earning ability

Property damage
Non-Economic Damages
Non-economic damages are all the other losses caused by your accident. Since these damages don't have a direct impact on your finances, it can be hard to calculate exactly how much you can recover for these losses. However, the money available for these losses is often substantial. Among the most frequently recovered non-economic damages in truck accident cases are:
Mental anguish

Emotional distress

Pain and suffering

Loss of consortium

Permanent disability

Scarring and disfigurement

Decreased quality of life
Punitive Damages
Punitive damages are only available in a small percentage of truck accident cases. Punitive damages are reserved for extreme situations involving criminal negligence or intentional harm. Punitive damages are used to punish the liable party for their actions rather than compensating the accident victim for the losses they incurred.
Complete a Free Case Evaluation form now
Get Help from an Experienced Truck Accident Attorney Today
People often worry about the cost of hiring an attorney after an accident. However, since those who hire truck accident attorneys typically recover more money in damages than those who attempt to represent themselves, the real cost is in not hiring a lawyer. At Arias Sanguinetti, we have helped countless accident victims recover compensation for their losses.
Contact us today by completing our online contact form, using our chat tool, or giving us a call and schedule a free, no-obligation consultation with a member of our contact team.
Call or text 310-844-9696 or complete a Free Case Evaluation form