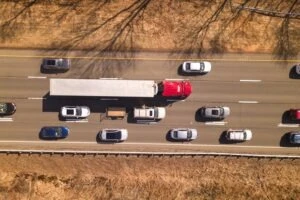 Truck accidents are among the most common and deadly types of motor vehicle accidents. Every year, thousands of people are injured or even killed in truck accidents, making them a major cause of concern for both drivers and law enforcement officials.
But how can truck accidents be prevented? Here, we'll explore proven methods for preventing truck crashes, so that you can stay safe on the roads and not become another statistic. If you've been injured in a collision on the road, contact a Los Angeles personal injury lawyer at Arias Sanguinetti now.
Understanding Common Causes of Truck Accidents
Truck accidents are a serious and often devastating occurrence on our roads. To effectively prevent these accidents, it's important to understand their causes.
Driver error:

Factors such as fatigue, distracted driving, and reckless behavior can significantly increase the risk of a collision.

Improper truck maintenance:

Neglecting regular checks and inspections can lead to mechanical failures that may result in accidents.

Poor driving conditions:

Conditions such as adverse weather conditions, road hazards, and inadequate infrastructure also contribute to truck accidents.
Understanding the causes of truck accidents is crucial for developing effective prevention strategies. By raising awareness and implementing measures to mitigate driver error, ensure proper maintenance, and improve road conditions, we can take significant steps towards reducing the frequency and severity of truck accidents.
Preventing Trucking Accidents
Truck accidents are devastating and can cause serious injuries or even fatalities. However, there are effective methods for preventing these accidents and keeping everyone on the road safe.
Driver Training and Certification
One of the most important ways to prevent truck accidents is through driver training and certification. Drivers must be properly trained and educated on defensive driving techniques, hazard identification, and handling large vehicles. Certification programs ensure that drivers meet specific qualifications and standards, ensuring their competency on the road.
Regular Truck Maintenance and Inspection
By prioritizing regular maintenance, truck owners can identify and address potential issues before they become safety concerns. This not only reduces the risk of accidents caused by mechanical failures but also contributes to fuel efficiency and cost savings.
Safety Technologies
Implementing safety technologies, such as collision avoidance systems and lane departure warning systems, can also greatly reduce the risk of truck accidents.
5 Safety Tips for Sharing the Road With Trucks
When it comes to driving around trucks, safety should always be a top priority. These massive vehicles require extra caution and awareness from other drivers to prevent accidents. Here are some important safety tips for driving around trucks:
Give trucks plenty of space:

Trucks have larger blind spots than regular cars, so make sure to avoid lingering in these areas. Stay at least four car lengths behind a truck to ensure that the driver can see you in their mirrors.

Be cautious when passing:

When passing a truck, make sure to do so quickly and safely. Accelerate to a speed that allows you to pass without lingering beside the truck for an extended period. Signal your intentions and give the truck enough room to maneuver.

Avoid sudden maneuvers:

Trucks take longer to stop and have a slower acceleration rate. Avoid sudden lane changes or abrupt braking in front of a truck, as this can cause a collision.

Be aware of turning trucks:

Trucks have a wider turning radius, so be cautious when they are making a turn. Give them plenty of space and avoid getting caught in their

blind spots

.

Use caution during inclement weather:

Trucks take longer to stop on wet or icy roads, so maintain a safe distance during adverse weather conditions.
By following these safety tips and being mindful of the unique challenges of driving around trucks, you can help prevent accidents and keep yourself and others safe on the road. Stay vigilant, be patient, and always prioritize safety when sharing the road with trucks.
Click to contact our abogados de lesiones personales today
The Importance of Hiring a Truck Accident Lawyer
If you've been involved in a truck accident, one of the most important steps you can take is hiring a truck accident lawyer. Arias Sanguinetti lawyers are experienced in handling cases involving truck accidents and can provide you with the expertise and guidance you need during this difficult time.
Understanding of the Law
Truck accident cases can be complex, involving multiple parties such as the truck driver, the trucking company, insurance companies, and possibly even government entities. A truck accident lawyer understands the unique laws and regulations that apply to the trucking industry, and can navigate through the legal process on your behalf.
Building a Strong Case
Hiring a truck accident lawyer can also help you build a strong case. We will conduct a strong investigation of the accident, gathering evidence such as witness statements, accident reports, and any available surveillance footage. We will also work with experts such as accident reconstruction specialists to determine the cause of the accident and establish liability.
Insurance Company Negotiation
Arias Sanguinetti | Trial Lawyers will also negotiate with insurance companies on your behalf. Insurance companies may try to settle for a lower amount than you deserve, but our skilled lawyers will fight for your rights and ensure that you receive fair compensation for your injuries, medical expenses, lost wages, and other damages.
Offering Peace of Mind
Hiring a truck accident lawyer can provide you with peace of mind. Dealing with the aftermath of a truck accident can be overwhelming, but knowing that you have a knowledgeable and experienced lawyer by your side can relieve some of the stress. We will handle all the legal aspects of your case, allowing you to focus on your recovery.
Complete a Free Case Evaluation form now
Do Your Part in Preventing Truck Accidents
Preventing truck accidents requires everyone's effort and commitment. As a driver, you can do your part by following traffic laws, staying alert and focused on the road, and maintaining a safe distance from trucks.
By being a responsible driver and practicing defensive driving techniques, you can help prevent truck crashes and keep yourself and others safe on the roads. However, if you do find yourself in the unfortunate event of a truck accident, contact Arias Sanguinetti |Trial Lawyers now to speak about your legal options.
Call or text 310-844-9696 or complete a Free Case Evaluation form