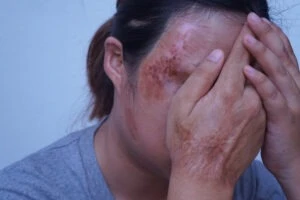 When wildfires rage, they often leave a trail of destruction in their wake. Unfortunately, the damage is not only physical; people can suffer serious emotional and psychological injuries as well. In these difficult times, it is important to remember that victims of wildfires may be entitled to compensation for their injuries through injury claims.
Let's explore the various legal options available to those affected by the devastating aftermath of a wildfire. If you or someone you know has been affected by a wildfire, contact the Los Angeles Personal Injury Lawyer at Arias Sanguinetti now for help.
Common Types of Injuries Related to Fires
When wildfires rage, they not only leave physical destruction in their wake but also inflict a range of injuries on individuals affected by them. Understanding the types of injuries resulting from wildfires is crucial in recognizing the need for compensation and support for victims.
Smoke Inhalation
The thick smoke produced by wildfires can contain harmful substances and toxins that, when inhaled, can cause respiratory issues such as coughing, shortness of breath, and even long-term lung damage. The elderly, young children, and those with pre-existing respiratory conditions are particularly vulnerable.
Burns
The intense heat and flames can cause severe burns, leading to excruciating pain, scarring, and potentially life-threatening complications. Victims may require extensive medical treatment, including skin grafts and rehabilitation.
Supporting a Wildfire Injury Claim With Evidence
When it comes to filing a wildfire injury claim, having the right evidence is crucial. This evidence will help support your claim and provide the necessary documentation to prove the extent of your injuries and the damages you have suffered.
Medical records:

These records will outline the injuries you sustained as a result of the wildfire. Be sure to gather all relevant medical records, including doctor's notes, test results, and any treatment plans or prescriptions. This documentation will help demonstrate the extent of your injuries and the medical care you have received.

Visual evidence:

It's important to gather any photographs or videos that show the damage caused by the wildfire. This visual evidence can be powerful in illustrating the destruction and the impact it has had on your life.

Record of expenses:

Make sure to keep cost records of things like property damage, evacuation costs, temporary housing, and any additional expenses related to your injuries. Keep receipts, invoices, and any other documentation that supports these expenses.

Witness information: If there were any witnesses to the wildfire or the aftermath, try to obtain their contact information. Witness testimony can be valuable in supporting your claim and providing additional evidence.
Remember, the more evidence you have, the stronger your claim will be. Consult with an attorney to ensure you gather all the necessary evidence to support your case. With the right evidence, you can seek the compensation you deserve and begin the process of rebuilding your life after a devastating wildfire.
How to File a Wildfire Injury Claim
If you or someone you know has been affected by a wildfire and is considering filing an injury claim, it's important to understand the steps involved in the process. Filing a wildfire injury claim can be complex, but with the right guidance and preparation, you can seek the compensation you deserve. Here are five important steps to follow:
Seek medical attention:

The first step is to seek medical attention for any injuries sustained during the wildfire. Make sure to document all medical visits, treatments, and prescriptions. This will serve as evidence of the extent of your injuries.

Gather evidence:

Collect all relevant evidence to support your claim. This includes medical records, photographs of the damages, receipts for expenses related to the wildfire, and any witness testimony. The more evidence you have, the stronger your case will be.

Call Arias Sanguinetti:

It's crucial to consult with an experienced wildfire attorney. We will guide you through the legal process, help you gather the necessary evidence, and ensure that your rights are protected.

File the claim:

Your attorney will assist you in filing the injury claim with the appropriate insurance companies or responsible parties. We will help you complete the necessary paperwork and ensure that your claim is submitted within the required time frame.

Negotiate or litigate: Depending on the circumstances, your attorney will either negotiate a settlement with the responsible parties or proceed with litigation if a fair settlement cannot be reached. Your attorney will advocate for your rights and work to secure the compensation you deserve.
Filing a wildfire personal injury claim can be a lengthy and complex process, but with the right steps and guidance, you can seek the compensation you deserve for your injuries and losses. Remember, consulting with an experienced attorney is crucial to navigate the legal complexities and ensure that your claim is handled effectively.
Click to contact our abogados de lesiones personales today
Contact Our Wildfire Lawyers to File an Injury Claim
In the aftermath of a devastating wildfire, seeking compensation through injury claims can be a lifeline for victims. While the process may be complex and challenging, it is essential to persevere.
Despite the obstacles faced by wildfire injury claimants, with the support of the experienced attorneys at Arias Sanguinetti, justice can be pursued, and the path to recovery can be paved. Contact us now for your free consultation.
Call or text 310-844-9696 or complete a Free Case Evaluation form