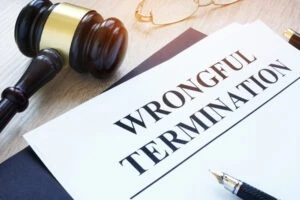 No one should have to worry about unfairly losing their job. Unfortunately, wrongful termination is a problem that many people face. If you're living and working in the San Francisco area and feel you've been wrongfully terminated, you should consider seeking legal assistance from a San Francisco wrongful termination lawyer.
Let's discuss how the team at Arias Sanguinetti can help protect your rights and fight for justice. Don't wait to discuss your case with a San Francisco employment lawyer now.
Types of Wrongful Termination
Wrongful termination takes a wide variety of forms, and it's important to understand the various types of wrongful termination to protect your rights in the workplace. Here are some common types of wrongful termination:
Discrimination-based termination:

This occurs when an employee is fired because of their race, religion, gender, disability, or age. Discrimination-based terminations are not only illegal but also unjust, as they infringe upon an individual's right to equal treatment in the workplace.

Retaliation-based termination:

This type of wrongful termination happens when an employee is fired in retaliation for reporting illegal activities,

unsafe working conditions

, or participating in a protected activity such as union organizing. Retaliation-based terminations are meant to discourage employees from speaking up and seeking justice.

Breach of contract termination:

If you have an employment contract that outlines the terms of your employment, your employer cannot terminate you in a way that violates those terms. Breach of contract terminations occur when an employer fires an employee in violation of their employment agreement.

Constructive dismissal:

Also known as constructive discharge, this type of termination happens when an employer makes the work environment so intolerable or difficult for an employee that they feel compelled to resign. Constructive dismissals are considered wrongful termination because they essentially force an employee to leave their job against their will.
Potential Damages in a Wrongful Termination Case
Damages in a wrongful termination lawsuit can vary depending on the circumstances of the case. If you've been wrongfully terminated, you may be entitled to several types of damages, including economic damages and non-economic damages.
Economic Damages
Economic damages typically include back pay, which is the wages you would have earned from the date of termination until the resolution of your case. This includes any lost benefits, bonuses, or commissions you would have received. In some cases, you may also be awarded front pay, which is the projected loss of future earnings due to the termination.
Non-Economic Damages
Non-economic damages are more subjective and can include compensation for emotional distress, pain and suffering, and damage to your reputation. These damages aim to compensate you for the emotional toll and stress caused by the wrongful termination.
San Francisco Wrongful Termination Lawyer Near Me 310-844-9696
What Should You Do If You Think You've Been Wrongfully Terminated?
If you believe that you have been wrongfully terminated from your job, there are important steps you should take to protect your rights and seek justice. Here are the steps to take if you think you've been wrongfully terminated:
Document everything:

Keep a detailed record of all interactions related to your termination. This includes any conversations with your employer, HR personnel, or colleagues. Take notes of dates, times, and the content of these conversations, as they may be important for your case.

Gather evidence:

Start by collecting any evidence that supports your claim of wrongful termination. This can include emails, documents, performance evaluations, or witness statements. This evidence will be crucial in building a strong case.

Contact an attorney:

The employment attorneys at

Arias Sanguinetti

will evaluate the merits of your case, guide you through the legal process, and ensure your rights are protected.

File a complaint:

Depending on the circumstances, you may need to file a complaint with the appropriate government agency, such as the

Equal Employment Opportunity Commission (EEOC)

or the California Labor Commissioner's Office. Your wrongful termination lawyer will help you navigate this process.

Stay professional:

While it may be tempting to vent your frustrations or retaliate against your former employer, it's important to remain professional throughout the process. Avoid posting negative comments or sharing confidential information on social media, as it may harm your case.
Click to contact our San Francisco Personal Injury Lawyers today
Benefits of Hiring a Wrongful Termination Lawyer
When facing the daunting task of fighting a wrongful termination, hiring a San Francisco wrongful termination lawyer at Arias Sanguinetti can be the difference between success and defeat. While it may be tempting to handle the legal process on your own, navigating employment laws and regulations can be incredibly complex and overwhelming.
Knowledge of Wrongful Termination Laws
A wrongful termination lawyer has the experience to evaluate the merits of your case, gather evidence, and build a strong legal argument. We understand the intricacies of federal, state, and local regulations that protect employees from unfair treatment, ensuring that your rights are protected.
Sending a Powerful Message
Not only does a lawyer provide legal experience, but our presence also sends a powerful message to your former employer. It shows that you are serious about seeking justice and will fight for what you deserve. Our experience and knowledge level the playing field, giving you a better chance of achieving a favorable outcome.
Support and Guidance
An attorney provides invaluable support throughout the entire process. We can clearly explain the legal steps involved, answer your questions, and keep you informed about the progress of your case. Our compassionate and understanding approach can provide much-needed emotional support during what can be a challenging and emotional time.
Complete a Free Case Evaluation form now
Contact a Wrongful Termination Lawyer in San Francisco
When facing a wrongful termination, it's crucial to remember that you don't have to go through it alone. Seeking legal assistance from a San Francisco wrongful termination lawyer can help protect your rights.
Remember, you have the right to seek justice and protect your rights as an employee. Don't hesitate to contact Arias Sanguinetti now to discuss your case.
Call or text 310-844-9696 or complete a Free Case Evaluation form